From the President's Desk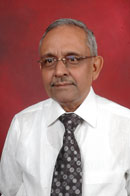 AIGMF founded in 1944 is the Umbrella organisation of all categories of glass manufacturers from large, medium and small-scale manufacturers in different parts of the country.
Apart from Glass manufacturers those connected with Glass industry in India and abroad are enrolled as members of the Federation. I would urge all those who are glass manufactures or associatedwith the glass industry but are not already connected to AIGMF to become members of this fraternity. For detailed information about enrollment as a member of AIGMF, please click here
I am delighted to inform you that AIGMF has a quarterly magazine titled Kanch (Glass) having wide circulation both in print and electronic medium. This is the only magazine which reaches all glass manufacturers and others connected with glass industry in India. It helps all concerned in remaining connected with the latest happenings of the Glass Industry. For subscribing/advertising in Kanch/Website, please send details to info@aigmf.com
Continue to browse AIGMF website and discover all that AIGMF has to offer.
S.C.Bansal
President